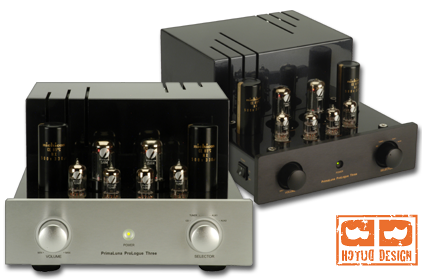 Manuals
Reviews
The ProLogue Three is a dual mono vacuum-tube pre amplifier, hand-made with the finest point to point wiring where necessary, using workmanship that is equal to or better than any product you can buy at any price.
The pre amplifier is built using finest premium parts. Seperate toroidal transformers for left and right powersupplies. Ceramic tube sockets. ALPS volume control. Nichicon, Solen and Swellong capacitors. Gold plated heavy duty panel mounted input and output jacks. It is enclosed inside a heavy gauge steel, fully vented chassis with five coats of finish. Each coat hand rubbed and polished.
Softstart circuit for extended life of sensitive components, plus a reduced chance of tube failure from thermal shock.
| | |
| --- | --- |
| Frequency response | 4Hz - 110kHz +/- 3dB |
| THD | <0,2% at 775mVrms output |
| S/N Ratio | >93dB(A) ref 775mV |
| Input Impedance | 100 kOhm |
| Input Sensitivity | 150mV for full output power when coupled to ProLogue Four or Five |
| Output Impedance | 2800 Ohm |
| Maximum Gain | 12dB (4x) |
| Power Consumption | 46W |
| Net Weight | 23.5 lbs / 10.6 kg |
| Shipping Weight | 27.9 lbs / 12.7 kg |
| Dimensions | 15.5"x11"x7.5" / 395mm x 280mm x 190mm (L x W x H) |
| Shipping Dimensions | 18.3"x15"x12" / 465mm x380mm x 305mm (L x W x H) |
| Inputs | 4 pairs RCA |
| Outputs | 2 pairs RCA (main); 1 pair RCA (tape) |
| Tube Complement | 2 x 5AR4, 2 x 12AX7, 2 x 12AU7 |