ProLogue Premium Preamplifier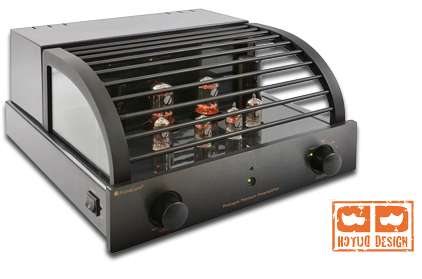 Manuals
Reviews
Incorporating the best electronic elements of the original ProLogue Three, plus selected ground-breaking features from the more advanced DiaLogue Series, the next generation ProLogue Premium Preamplifier is an engineering marvel — setting a new benchmark in high-performance audio with the following features:
Home theater pass-thru. Straight from the critically-acclaimed DiaLogue Series, this direct-line circuitry means less noise and coloration over unity gain circuits.
New power transformers. Heavy-duty, dual-mono, power transformers increase control and detail. Addional windings were added to each transformer for improved synergy with the optional PhonoLogue MM Phonostage. The preamp weighs in at a substantial 37.5 pounds.
New front end circuitry. Optimized to use two 12AU7 tubes per channel. Combines with the improved power transformers to further lower distortion, dropping by a factor of 20 at output levels above one volt! This in turn dramatically improves sound quality.
PTP-circuit. If the power transformer should overheat, this innovative "Power Transformer Protection" circuit cuts primary power, allows the preamp to cool down, then resets itself.
Point-to-point wiring and premium parts including ALPS Blue Velvet potentiometer, Solen and Swellong capacitors, ceramic tube sockets, gold plated RCA jacks.
Tube rectification using two 5AR4 tubes, one for each channel. Designed with no cathode followers for a vibrant midrange, creating a three-dimensional soundstage rarely encountered.
Low noise achieved with DC heater supply and 12 dB of gain. The power supply is perfectly de-coupled with an ultra-wideband, constant source impedance, and low corner frequency of over two octaves below the audio bandwidth (4Hz).
Non-inverting and has two pair of outputs so you can easily bi-amp or add a powered subwoofer. Fixed tape out included for recording, or adding an external headphone amplifier.
Hand-rubbed, high-gloss finish with black or silver faceplate and quick-release tube cage.
Frequency response
4Hz-85kHz +/- 3dB
THD
Less than 1% at full power
S/N Ratio
109 dB unweighted
Input Impedance
100 kOhm
Input Sensitivity
200mV
Output Impedance
2800 Ohm
Maximum Gain
12 dB
Power Consumption
46 Watts
Net Weight
37,5 lbs – 17 kg
Dimensions
14.5" x 8" x 15.5" – 37 cm x 20 cm x 40 cm (WxHxD)
Inputs
4 pair RCA, 1 pair HT bypass
Outputs
2 pair variable pre-amp outputs
Tube Complement
4 - 12AU7
2 - 5AR4