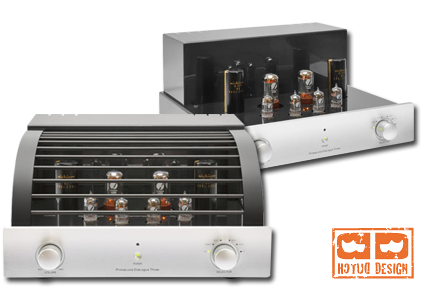 Manuals
Reviews
Continuing with PrimaLuna's founding principle of offering sophisticated components with advanced features for an exceptional price, the DiaLogue Three Preamplifier is yet another winner in PrimaLuna's string of first place finishers.
One of the first things you'll notice about the Three is its size: the dual-mono designed preamp weighs in at a hefty 24kg… that's some serious iron! Much of that comes from its new, heavy-duty, DiaLogue class power transformers – already recognized as a reference in the industry – that provide increased control and detail. And in the unlikely event that one of the transformers should overheat, DiaLogue's innovative new PTP-circuit cuts the primary power, allows the unit to cool down, and then resets itself.
The preamp also features another protective measure, a SoftStart circuit that powers it up gently and extends the life of tubes and other sensitive components.
However, unquestionably the most significant feature is DiaLogue Three's front end, a complete re-design of the award winning ProLogue Three. Utilizing all 12AU7s, it combines with the new transformers to lower noise and increase low level resolution in ways not thought possible.
In fact, distortion levels in the first stage have dropped by a factor of five at low levels, to at least 20 at higher levels, above one volt.
The DiaLogue Three is tube rectified, utilizing two 5AR4 vacuum tubes. And it employs all premium parts, including a motorized Alps Blue Velvet potentiometer; Nichicon, Swellong and Solen capacitors (including some tinfoils); fast-recovery diodes; ceramic tube sockets; and gold-plated, panel mounted input and output jacks that provide a more secure connection.
Further, the DiaLogue Three has five line level inputs for maximum versatility, one RCA tape out and two RCA pre outs as well as a home theater pass-thru circuit that promises to keep everyone in the family happy. Finally, it comes with a stunning, heavy-gauge, anodized aluminium remote that controls all functions of the preamp as well as those of the Prologue Eight CD player and the DiaLogue Eight CD player (coming soon).
All these exceptional features come encased in the exquisite DiaLogue chassis, with its five- stage, hand-rubbed, high-gloss, black-sapphire finish
| | |
| --- | --- |
| Frequency response | 10Hz – 130 kHz +0/-3dB |
| THD | 0,15% at 2V output level |
| S/N Ratio | >100 dB wtdA ref 2V output |
| Input Impedance | 220 kOhm |
| Input Sensitivity | 220 mV for full output power when coupled to DL 4 or 5 |
| Output Impedance | 2500 Ohm |
| Maximum Gain | 12dB (4x) |
| Power Consumption | 50 Watts |
| Net Weight | 52.9 lbs / 24 kg |
| Dimensions | 15.9" x 15.2" x 8.3" / 405mm x 385mm x 210mm (LxWxH) |
| Inputs | 5 pairs Stereo RCA, 1 pair Home Theater Input |
| Outputs | 2 pairs Stereo RCA (main); 1 pair RCA (tape) |
| Tube Complement | 2 x 5AR4, 4 x 12AU7 |
| Remote control | Heavy Metal System Remote Control |