DiaLogue Premium Preamplifier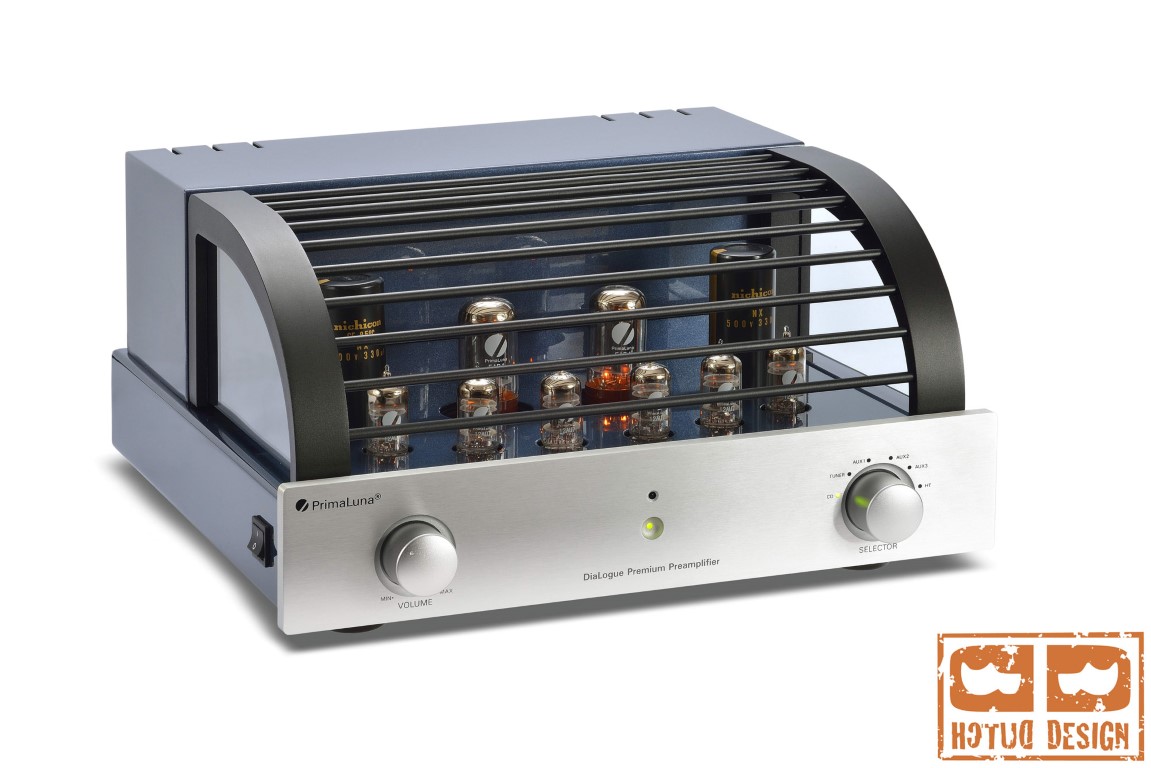 The DiaLogue Premium Preamplifier is the second member of the new DiaLogue Premium series of affordable, high-quality tube products. The designers and builders of the PrimaLuna equipment all have a long history in high-end audio. We feel we have shown with PrimaLuna that we are able to offer a range of affordable audio instruments that can easily compete with today's most expensive brands and assure you we will continue that way. We firmly believe that our quality level will set the bar at a difficult height for other products to match.
This PrimaLuna DiaLogue Premium Preamplifier features:
Hand-made construction with the finest point-to-point wiring, using workmanship that is equal to or better than any product you can buy at any price.
A heavy-gauge, fully-vented steel chassis with a five coat finish. Each coat is hand-rubbed and polished.
SoftStart™ circuit for extended life of sensitive components, plus a reduced chance of tube failure from thermal shock.
Premium parts: separate toroidal transformers for left and right channel powersupply; ceramic tube sockets; motorized ALPS volume control; Nichicon, Solen, Swellong and DuRoch capacitors; gold-plated panel mounted input and output jacks.
SRC (FR) tinfoil capacitors and Takman (Japan) audiophile grade resistors in critical signal paths.
AC Offset Killer circuit creates a dead silent power transformer, allowing music to emerge from a pitch-black background.
New front end design using six 12AU7 tubes in total. The result is a wider, more linear bandwidth of the driver stage. The sound of the preamp is much more dynamic, especially when music becomes complex. Bass control and the space between instruments improves greatly.
All new PrimaLuna PTP™ (Power Transformer Protection) circuit. When the power transformer overheats due to environmental circumstances, overloading or some problem in the unit, an internal thermal switch breaks the primary, allowing the unit to cool down before harm is done. After it's cooled, contact is restored and if nothing is broken, the preamplifier will repower and function properly.
LIVE side of AC input connector indicated by aluminiumcolor screw.
5 line level inputs, one stereo Home Theater pass thru.
1 pair rca tape out; 2 pairs rca pre out.
Heavy-gauge, brushed aluminum remote control included.
Gain
9.7 dB (4x)
Frequency Response
9Hz – 95 kHz +/- 1dB
THD +N
<0,5% at 2V output level
S/N Ratio
93dB
Input Impedance
220 kOhm
Input Sensitivity
650mV rated power at maximum power setting
Output Impedance
256 Ohm
Power Consumption
61 Watts
Net Weight
52.9 lbs / 24 kg
Dimensions
15.9" x 15.2" x 8.3"
405 mm x 385 mm x 210 mm (L x W x H)
Inputs
5 pairs Stereo RCA, 1 pair Home Theater Input
Outputs
2 pairs Stereo RCA (main); 1 pair RCA (tape)
Tube Complement
2 x 5AR4 6 x 12AU7
Remote control
Heavy Metal Remote Control