DiaLogue Premium Poweramplifier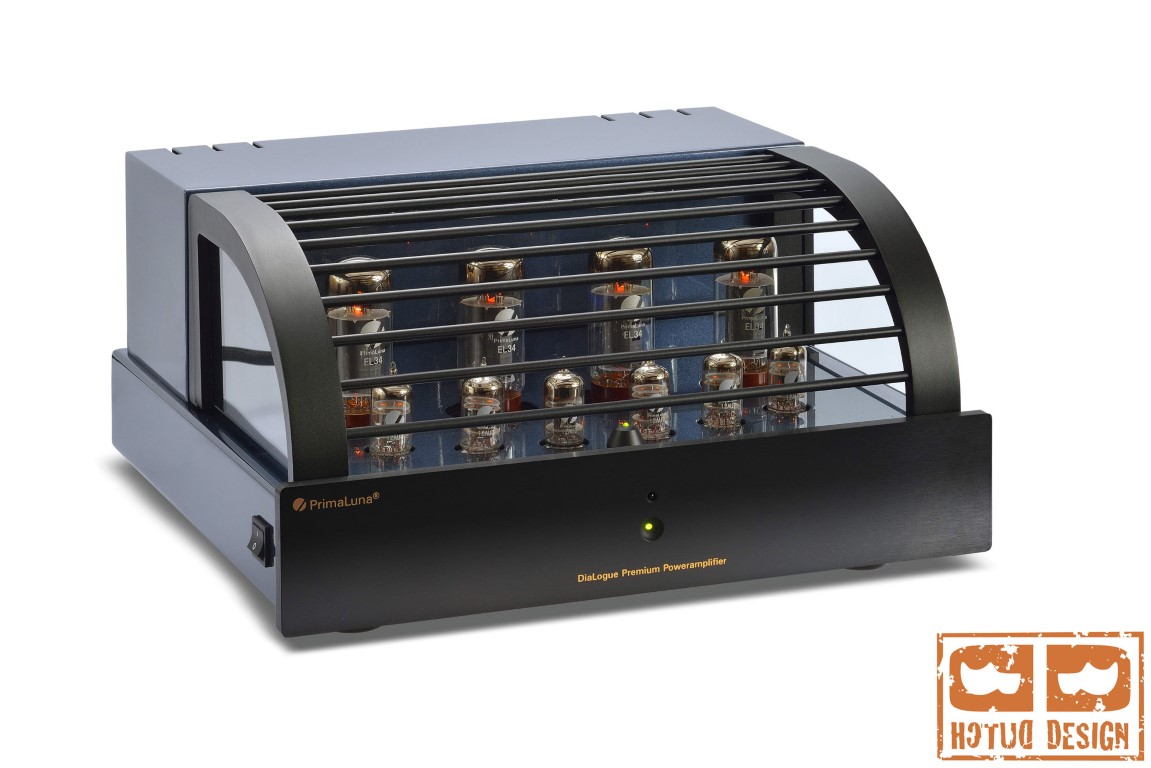 The DiaLogue Premium Poweramplifier is the third member of the new DiaLogue Premium series of affordable, high-quality tube products. In fact it is a combination of our DiaLogue Premium Stereo Amplifier and our DiaLogue Premium Mono Amplifier. Both their functionality in one new model. The designers and builders of the PrimaLuna equipment all have a long history in high-end audio. We feel we have shown with PrimaLuna that we are able to offer a range of affordable audio instruments that can easily compete with today's most expensive brands and assure you we will continue that way. We firmly believe that our quality level will set the bar at a difficult height for other products to match.
This PrimaLuna DiaLogue Premium Poweramplifier features:
Hand-made construction with the finest point-to-point wiring, using workmanship that is equal to or better than any product you can buy at any price.
A heavy-gauge, fully-vented steel chassis with a five coat finish. Each coat is hand-rubbed and polished.
Premium parts that include a toroidal transformer for power supply; custom designed -in conjunction with one of the most prestigious transformer designers in the USA- encapsulated output transformers the quality of which fits nicely between standard DiaLogue and DiaLogue transformers; wide bandwidth for great bass and extended highs; ceramic tube sockets; ALPS volume control; Nichicon, Solen, Swellong and DuRoch capacitors; superfast Philips-diode-circuitry; gold-plated heavy duty WBT style speaker terminals (all speaker connectors are solid shaft, without hole, for better conductance, better sound and higher reliability); gold-plated panel mounted input jacks.
SoftStart™ circuit for extended life of sensitive components, plus a reduced chance of tube failure from thermal shock.
A new generation Adaptive AutoBias™ exclusive to PrimaLuna. This circuit monitors and smoothly adjusts bias constantly and instantly, reducing maintenance and increasing performance due to the dramatic reduction in distortion. It comes with a new extensive output stage protection circuitry with +B relay to protect output transformers, resistors and high voltage power supply in case a tube fails. In all DiaLogue Premium Amplifier models the new generation Adaptive Auto Bias Board comes with our new BTI™ circuit. BTI™ stands for Bad Tube Indication (by LEDs), making tube-life again a bit easier.
All DiaLogue Premium Amplifiers come with an EL34/KT88 bias switch. This means that with the flip of a switch you can choose for the optimum bias setting for EL34 type of tubes or KT88 type of tubes. No hassle with screwdrivers, no messing around with meters etc. Just switch tubes, switch bias!
This DiaLogue Premium Poweramplifier comes also with a mono/stereo switch giving it the functions of both the DiaLogue Premium Mono Amplifier as well as the DiaLogue Premium Stereo Amplifier.
Power
Stereo 35 Watts per channel; Mono 70 Watts per channel
Frequency Response
stereo 9Hz - 130kHz -3 dB;
mono 7Hz - 140kHz -3 dB
THD with AABB
less than 1% at rated power
S/N Ratio
75 dB flat; 92 dB Wtda
Input Impedance
100 kOhm
Input Sensitivity
stereo 600 mV, mono 900 mV (for rated power at maximum volume setting)
Maximum Gain
28 dB
Power Consumption
255 Watts
Net Weight
49.5 lbs / 22.5 kg
Dimensions
15.4" x 14.4" x 8"
390 mm x 365 mm x 202 mm (L x W x H)
Inputs
1 pair Stereo RCA; mono: 1 single RCA
Outputs
stereo: 4, 8 & 16 Ohm Speaker Taps;
mono: 2, 4 & 8 Ohm Speaker Taps
Tube Complement
4 x EL34, 6 x 12AU7