DiaLogue Premium HP Integrated Amplifier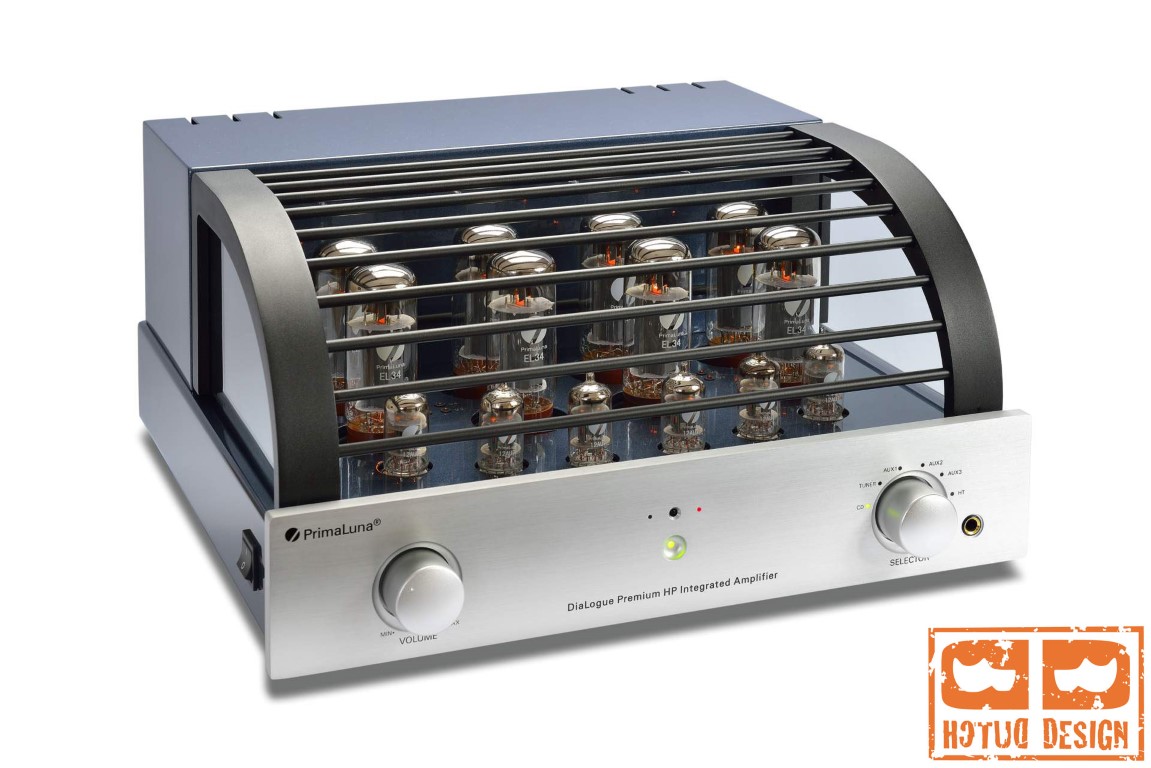 The DiaLogue Premium HP Integrated Amplifier is the first member of the new DiaLogue Premium HP series of affordable, high-quality tube products. The designers and builders of the PrimaLuna equipment all have a long history in high-end audio. We feel we have shown with PrimaLuna that we are able to offer a range of affordable audio instruments that can easily compete with today's most expensive brands and assure you we will continue that way. We firmly believe that our quality level will set the bar at a difficult height for other products to match.
This PrimaLuna DiaLogue Premium HP Integrated amp features:
Internal headphone amplifier. This new headphone amp may be the best you ever heard. It's running from all the power tubes! An elegant, well designed circuit allows you to switch from speakers to headphone as you wish. If you love private listening, this amp will wow you!
ALPS Blue Velvet motorized volume control tracks better, so a defined stereo image is established and doesn't collapse as you raise and lower volume. And it will stay quiet, adhering to PrimaLuna's guiding principle of "Built to last a lifetime".
Relay based input selection. Selector switches allow stray signals from RF and the other components hooked into your system to contaminate the sound of what you are listening to. This PrimaLuna has a relay and circuit mounted at every input. If you select a CD player input, for example, a relay closes and a perfect load is presented to the item you are listening to. All other relays are open so as to prevent crosstalk between inputs. This is many times more expensive to build, and you would never see it, but it is what PrimaLuna stands for!
SmartWatts design. PrimaLuna's true-value, low stress design philosophy. Many manufacturers fudge on their power ratings, claiming power that is mathematically impossible. Every seasoned tube owners knows that 20 watts from a tube amp is a ton of power. What is really important is that PrimaLuna runs their power tubes up to 40% easier that other manufacturers.
Hand-made construction with the finest point-to-point wiring, using workmanship that is equal to or better than any product you can buy at any price.Swiss Oxygen Free Continuous Crystal copper, silver plated Teflon dielectric wiring is used in critical paths.
A heavy-gauge, fully-vented steel chassis with a five coat finish. Each coat is hand-rubbed and polished.
Premium parts that include a toroidal transformer for power supply; custom designed -in conjunction with one of the most prestigious transformer designers in the USA- encapsulated output transformers for lowest hum; wide bandwidth for great bass and extended highs; ceramic tube sockets; ALPS volume control; Nichicon, Solen, Swellong and DuRoch capacitors; superfast Philips-diode-circuitry; gold-plated heavy duty WBT style speaker terminals (all speakerconnectors are solid shaft, without hole, for better conductance, better sound and higher reliability); goldplated panel mounted input jacks.
SRC (FR) tinfoil capacitors and Takman (Japan) audiophile grade resistors in critical signal paths.
SoftStart™ circuit for extended life of sensitive components, plus a reduced chance of tube failure from thermal shock.
AC Offset Killer circuit creates a dead silent power transformer, allowing music to emerge from a pitch-black background.
A new generation Adaptive AutoBias™ exclusive to PrimaLuna. This circuit monitors and smoothly adjusts bias constantly and instantly, reducing maintenance and increasing performance due to the dramatic reduction in distortion. It comes with a new extensive output stage protection circuitry with +B relay to protect output transformers, resistors and high voltage power supply in case a tube fails. In all DiaLogue Premium Amplifier models the new generation Adaptive Auto Bias Board comes with our new BTI™ circuit. BTI™ stands for Bad Tube Indication (by LEDs), making tubelife again a bit easier.
The DiaLogue Premium Integrated Amplifiers as well as the poweramplifiers come with an EL34/ KT88 bias switch. This means that with the flip of a switch you can choose for the optimum bias setting for EL34 type of tubes or KT88/KT120 type of tubes. No hassle with screwdrivers, no messing around with meters etc. Just switch tubes, switch bias!
The PrimaLuna DiaLogue Premium HP Series has PrimaLuna approved design for using KT120 power tubes as well. Biassetting is same as for KT88 power tubes.
New front end design using six 12AU7 tubes in total. The result is a wider, more linear bandwidth of the driver stage. The sound of the amp is much more dynamic, especially when music becomes complex. Bass control and the space between instruments improves greatly.
All new PrimaLuna PTP™ (Power Transformer Protection) circuit. When the power transformer overheats due to environmental circumstances, overloading or some problem in the unit, an internal thermal switch breaks the primary, allowing the unit to cool down before harm is done. After it's cooled, contact is restored and if nothing is broken, the amp will repower and function properly.
All new PrimaLuna OTP™ (Output Transformer Protection) circuit which further protects the amplifier.
Ultralinear or triode mode switchable by remote control.
5 line level inputs, 1 stereo Home Theater pass thru.
1 dedicated mono subwoofer output
Heavy-gauge, brushed aluminum remote control included.
Power Ultra-linear
70 Watts per channel (EL34),
73 Watts (KT88),
89 Watts (KT120)
Power Triode
40 Watts per channel (EL34),
42 Watts (KT88),
51 Watts (KT120)
Frequency response (+/- 1dB)
7Hz-70kHz
THD (1W/1kHz) @ 1W; less than 2% at rated power
< 0.1%
S/N Ratio
92dB
Input Impedance
100k Ohm
Input Sensitivity (for rated power at maximum volume stetting)
320mV (360mV for KT120)
Maximum Gain UL/TR
38dB/36.7dB (EL34)
37.5dB/36.1dB (KT88)
37.4dB/39.5dB (KT120)
Power Consumption
470 Watts (EL34)
480 Watts (KT88)
540 Watts (KT120)
Net Weight
66.3 lbs / 29.5 kg
Inputs
5 pairs Stereo RCA, 1 pair Home Theater Input
Outputs
4 & 8 Ohm Speaker Taps, 1x RCA mono Subwoofer output, 1/4" Headphone output
Damping Coefficient
7 KD (1kHz)
Tube Complement
8 x EL34/KT88/KT120, 6 x 12AU7
Remote control
Heavy Metal Remote Control